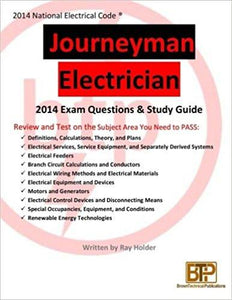 2014 Journeyman Electrician Study Guide
This is a print to order product. Please allow up to two weeks for delivery.
The 2014 Journeyman Electrician Study Guide is a comprehensive study preparation guide written by Ray Holder. The study guide will help you prepare for the exam by providing 10 practice open book exams and 2 Final Closed Book Exams. This book has been read and studied by thousands of students looking to become a journeyman electrician. This is the most COMPLETE study prep book on the market. This study aide will guide you through 10 chapters of material with chapter quizzes and then you will find 10 exams with 2 complete final exams. This book is backed by over 70 years of history with Ray Holder as the writer and Brown Technical as its distributor and contributor.
---