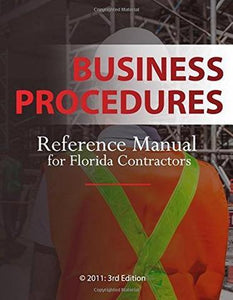 GITS Business Procedures Exam Book Set (County - Florida)
GITS Business Procedures Exam is required for all first-time County Contractor License Applicants in addition to taking the trade exam. The GITS Business Procedures Book Set for County Contractors includes the following books:
Business Procedures Reference Manual for Florida Contractors, GITS LLC, 3rd Ed. 

Code of Federal Regulations - Title 29, Part 1926 (OSHA)
Exam Prep course not included. May be purchased separately. 
The GITS Business Procedures Exam for County Contractors has 50 questions and a time limit of 2 hours. The GITS Business Procedures Exam covers: 
Insurance Laws

Tax Laws

Safety 

Management

Lien Laws

Employment Laws

General Accounting
---