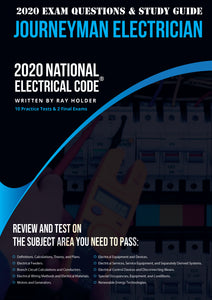 2020 Journeyman Electrician Exam Questions and Study Guide [Book]
2020 JOURNEYMAN ELECTRICIAN EXAM QUESTIONS AND STUDY GUIDE (BOOK)
The 2020 Journeyman Electrician Exam Questions and Study Guide will help you prepare for your Journeyman Electrical Exam by providing you with 12 practice exams consisting of 25 question each and 2 final exams with 80 questions each based on the 2020 National Electrical Code®. This book also covers most topics that are included on all Journeyman Electricians exams such as:
Definitions, Calculations, Theory and Plans
Electrical Feeders
Branch Circuit Calculations and Conductors
Electrical Wiring Methods and Electrical Materials
Motors and Generators
Electrical Equipment and Devices
Electrical Services, Service Equipment, and Separately Derived Systems
Electrical Control Devices and Disconnecting Means
Special Occupancies, Equipment, and Conditions
Renewable Energy Technologies
Written by Ray Holder and published by 1ExamPrep/Brown Technical Publications. Brown has taken its 70 years of knowledge to combine all of the best and most comprehensive study prep book for Electrical Journeymen on the market. 

---