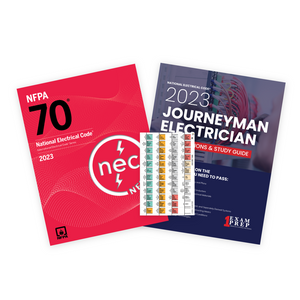 2023 Journeyman Electrician Study Guide & National Electrical Code Combo with Tabs
The only package you will need to pass your Journeyman Electrician's exam.  We offer a 100% satisfaction guarantee.  Our Electrician Exam Prep books are #1 Amazon best sellers in their category!
Free Shipping on this package!!
For Help Please Call 1-888-710-2550
Check out the great publications you receive:
1) 2023 Journeyman Electrician Study Guide; (ISBN 979-8377462460)
An excellent study-aid when preparing for the Journeyman Electrical Exam. This workbook will prepare you for both, the "open book" or code book related questions and the new "no book" (formally titled closed book) questions. It also includes the most popular electrical exam formats (number of questions, time allowed, etc.) and is the best way to study the Code book as it forces you to find the answers in the time limit. Includes 12 open book tests and 2 final closed exams. A special intro dedicated to your specific state exam.
2) National Electrical Code 2023 Paperback with Tabs;

This set includes the NEC 2023 Code and the affixable tabs that go along with it.
---