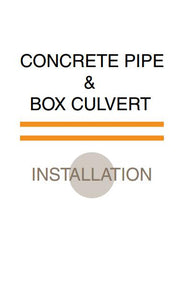 Concrete Pipe & Box Culvert Installation, 2015
This manual presents a guide for the proper installation of concrete pipe. For many years, the American Concrete Pipe Association has conducted comprehensive research and analysis of the factors which affect the field performance of concrete pipe. The knowledge and beneficial practices gained through research and experience are presented in this manual.
With the development of national standards for design and manufacturing, box culverts are rapidly becoming a large part of the precast industry. One of the unique benefits of precast concrete boxes is their fast and easy installation, even under adverse field and weather conditions. Precast boxes, like concrete pipe, can be custom fabricated to any configuration needed or desired in the field. Where larger waterway capacity is required, multiple sections can be placed side-by-side or connected in rows to provide an excellent storm water detention system for areas with outfall flow restrictions or requirements for on-site detention.
---