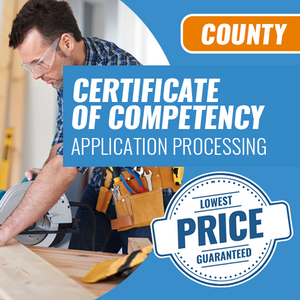 County Certificate of Competency Application Processing [Florida]
$65000

$650.00

Save $72.25
---
---
Applying to your local or non-local county government has never been easier, than with our Application Assistance Programs. Simply identify the county and trade you would like to be licensed in and we will be glad to assist you in the process of applying for your licensure. Our Application Processing Assistance Program is the best way to apply to become a Certificate of Competency Holder in any participating county in the State of Florida. Obtaining the right assistance ensures that no steps are missed and that no documents are left out or behind.
Once your intake is complete, we compile the necessary information based on your responses and experience and then it will be fostered into a well-constructed application package. If needed, the applicant will receive a list of documentation and/or information still required to complete the application package. When your application package is complete, it will be sent out the same day, or held for pickup if the applicant would like to hand deliver the application package to the County or Jurisdiction they are applying to. (*Note that County/Jurisdiction Certificate of Competency Holders, in Florida, must also complete an application to Register that Certificate with the State of Florida Department of Business and Professional Regulation)
NOTE: The county of Palm Beach has one of the most detail-oriented application processes in the state. Applicants are required to provide a multitude of verifiable information and documentation. For this reason the our application assistance fee is more for Palm Beach County. All of this process can be simplified with assistance from our Application Processing Assistance Program. We will guide you step by step and ensure that your application is prepared in the best of ways to facilitate a proper submission within a reasonable and efficient amount of time.
Our Application Assistance Fee does NOT include the application processing fee required by the County Licensing Board. Separate check(s) or money order(s) made payable to the Licensing Board will be required to submit your application(s).
---