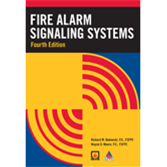 Fire Alarm Signaling Systems, 2010, 4th Edition
$15995

$159.95

Save $17.85
---
---
Authors: Richard W. Bukowski, P.E., FSFPE and Wayne D. Moore, P.E., FSFPE
Trust the fully revised Fire Alarm Signaling Systems for state-of-the-art guidance that helps make sure your systems meet code.
Equip yourself for success with the new edition of this informative text from authorities at NFPA® and the Society of Fire Protection Engineers (SFPE). Fire Alarm Signaling Systems provides comprehensive coverage of the full range of issues from signal initiation to system testing so you can meet job challenges confidently.
Stay on the leading edge and learn to apply the 2010 NFPA 72® to design, select, and install systems for optimum protection.
Featuring clear non-technical explanations, updated artwork, and an easy-to-use format, this how-to resource enhances your Code knowledge so you can:
Establish fire protection goals, match the fire alarm system to the goals, and know system limitations
Effectively design a mass notification system
Weigh the benefits of prescriptive versus performance-based design approaches
Maintain quality control during installations
Analyze and improve intelligibility of voice communication systems
Understand the elements and importance of a well-designed fire service interface
Valuable for system commissioning and teaching, too.
Get up-to-speed on plans review, acceptance testing, and commissioning...the latest testing schedules...and methods for cost analysis. Fire Alarm Signaling Systems is an indispensable tool for installers, designers, engineers, maintainers, and inspectors, as well as an excellent training text. (Hardbound, Approx. 480 pp., 2010)
9781616650186
FASS10
---