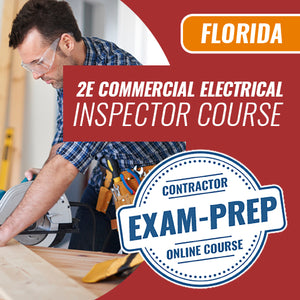 Florida 2E Commercial Electrical Inspector - Online Exam Prep Course
Florida 2E Commercial Electrical Inspector Course
This online simulated exam prep course is designed to prepare you for the Florida 2E Commercial Electrical Inspector Exam.
The National Electrical Code has a LANGUAGE all its own. Understanding the language will help one to better interpret the code. Learn how to find answers quickly on exam day. Course includes:
Test Taking Techniques

Tab Locations (to locate answers quickly)

Over 500 questions to practice on in a simulated format
Android and iOS Compatible - Complete the course on your phone, anytime or anywhere.
---