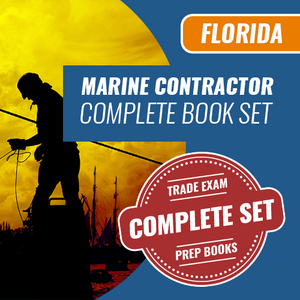 Florida Marine Specialty Contractor Exam Complete Book Set - Trade Books
$98550

$985.50

Save $109.50
---
---
The complete set of Florida State Marine Contractors trade exam books includes the following:

Walker's Building Estimator's Reference Book, Walker's, 32nd Ed.

Code of Federal Regulations, (OSHA) 29 Part 1926


Contractors Manual, 2021

Design and Control of Concrete Mixtures, Steven H. Kosmatka, Beatrix Kerkhoff and William C. Panarese, 17th Edition

Placing Reinforcing Bars, 10th ed

Principles and Practices of Commercial Construction, Ronald C. Smith and Cameron K. Andres, 10th Edition, 2019

Damage Prevention Guide (includes FL Statute Ch. 556 Underground Facility Damage Prevention and Safety Act), October 2020

Dock Manual, Design, Building, Maintaining, 1999

Timber Pile Design & Construction Manual, 2016

Florida Building Code – Building, 2020

Florida Building Code – Accessibility, 2020
A Florida Marine Contractor is a specialty contractor qualified and certified by the board to perform any work involving the construction, repair, alteration, extension and excavation for fixed docks, floating docks, boathouses, mooring devices, mooring fields, seawalls, bulkheads, piers, wharfs, boatlifts, boat ramps, revetments, cofferdams, wave attenuators, dune crossovers and other marine structures and activities, including pile driving, framing, concrete, masonry, dredge and fill, and wood shingle, wood shakes, or asphalt or fiberglass shingle roofing on a new structure of his or her own construction. Nothing in this rule shall be deemed to restrict or limit in any manner the scope of work authorized by law of other contractor classification.
---