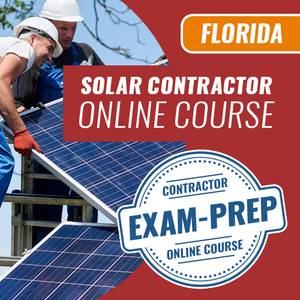 Florida Solar Contractor Trade Exam - Online Exam Prep Course
Get one step closer to becoming a Florida Solar Contractor with a prep course designed by 1ExamPrep to help you conquer the required Florida Solar Contractors Trade Knowledge examination.
Use the online course structure to tailor your prep to your individual learning style. You'll have a full year of access to the online course.
Test-taking tips

Highlight & Tab locations for all of the references books
Practice Exams with hundreds of practice questions

Covered topics include what a solar contractor can install, alter, repair, maintain, relocate, or replace solar panels for potable solar water heating systems, swimming pool solar heating systems, and photovoltaic systems and any appurtenances, apparatus, or equipment used in connection therewith, whether public, private, or otherwise, regardless of use.
Android and iOS Compatible - Complete the course on your phone, anytime or anywhere.
---