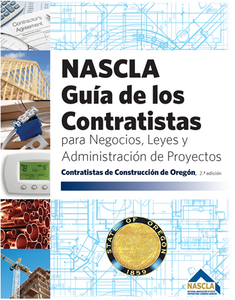 Oregon Spanish NASCLA Contractors Guide to Business, Law and Project Management, OR Construction Contractors 2nd Edition
$12499

$124.99

Save $13.26
---
---
***This book is in Spanish***
Guía de los Contratistas para Negocios, Leyes y Administración de Proyectos de la NASCLA Contratistas de Construcción de Oregón, edición:
Este libro está organizado en tres secciones:

La Parte 1 se enfoca en la planificación y la puesta en marcha de su negocio. Esta sección le ayudará a formular un plan de negocios, elegir una estructura de negocios, comprender los requisitos para obtener licencias y seguros y ganar habilidades básicas de gerencia y mercadeo.

La Parte 2 cubre los fundamentos que usted deberá conocer para operar un negocio de construcción exitoso. Esta sección cubre la realización de presupuestos, la gerencia de contratos, planificación, administración de proyectos, responsabilidades ambientales y de seguridad y el establecimiento de buenas relaciones con empleados, subcontratistas y clientes.

La Parte 3 proporciona información valiosa para ayudarle a llevar a cabo las funciones administrativas de su negocio. Se habla sobre la gerencia financiera, los principios básicos sobre impuestos y las leyes de embargo. La gerencia efectiva de estas áreas de negocio es vital y puede ocasionar problemas graves si usted no le presta la atención adecuada.
All products and company names are trademarksTM or registered ® trademarks and/or copyrights of their respective holders.  Use of them does not imply any affiliation with or endorsement by the respective holders.
---