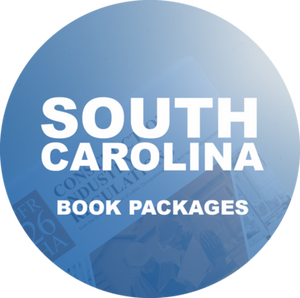 South Carolina Limited Building Contractor Book Package Pre tabbed and highlighted
$1,15499

$1,154.99

Save $130.01
---
---
All books come professionally tabbed and highlighted to the scope of the exam.
South Carolina Limited Building Book Package Includes:
International Building Code, 2021 Ed.
Code of Federal Regulations - 29 CFR Part 1926 (OSHA)
Modern Masonry - Brick, Block, Stone, Clois E. Kicklighter, 9th Edition 
Technical Digest No. 9 – Handling and Erection of Steel Joists and Joist Girders, 3rd Edition, 2008
Carpentry and Building Construction 2016 (Student Edition)
Roofing Construction and Estimating
Contractor's Guide to Quality Concrete Construction, 4th Ed.
Pipe and Excavation Contracting, 2011
South Carolina 811 Excavator Manual
Please allow 15 business days for your books to be tabbed and highlighted.
---