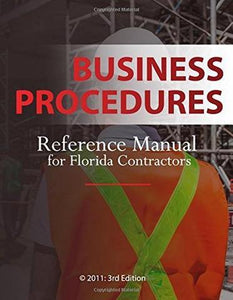 GITS Business Procedures Exam Book Set; Highlighted & Tabbed - Broward County
$34990

$349.90

Save $40.10
---
---
Please allow 15 business days for the tabbing and highlighting of your books. 
Highlighted and Tabbed Business Procedures Book Set (Broward County)
Our tabbed and highlighted exam ready books are skillfully tabbed and highlighted by professionals. Your book will come affixed with permanent quick reference tabs printed with the chapter titles and other important sections to help you quickly and easily navigate through the book during your exam. Key areas will already be vibrantly highlighted so you know what subjects are relevant while saving time preparing for your exam. 
GITS Business Procedures Exam is required for all first-time Broward County Contractor License Applicants in addition to taking the trade exam. The GITS Business Procedures Book Set for Broward County includes the following books:
Business Procedures Reference Manual for Florida Contractors, GITS LLC, 3rd Ed. 

Code of Federal Regulations - Title 29, Part 1926 (OSHA)

Broward County Code, Chapter 9 - Contractors, 2014
The GITS Business Procedures Exam for Broward County has 50 questions and a time limit of 2 hours. The Broward County GITS Business Procedures Exam covers: 
Taxes

Insurance and Bond Laws

Management Skills

Lien Laws

Safety Regulations

Employment Laws

General Accounting

Broward County Chapter 9
---