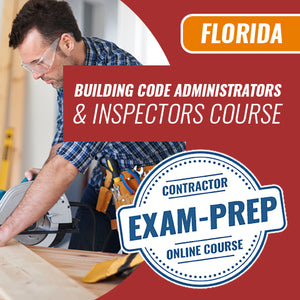 Florida Principle and Practice Exam Prep for Building Code Administrators and Inspectors Online Course
Get one step closer to becoming a Florida Building Code Inspector with an online prep course designed by 1ExamPrep to help you conquer the required Florida Principles and Practices examination.
Online Course includes:

Test-taking techniques and time management tips

Highlighting and tabbing locations for all of the required reference material
Hundreds of practice questions 
1 year of online access
Covered topics include questions that are based upon content contained in the reference materials and from common administrative and legal knowledge. They are structured to cover a wide range of administrative and legal topics such as Administrative Law; Property Law; Planning; Supervising Code Personnel; Negligent Wrongdoing; Discipline; Working with the Public at Large; and General Liability in order to ensure compliance with governing Building, Plumbing, Mechanical, and Electrical Codes.
---