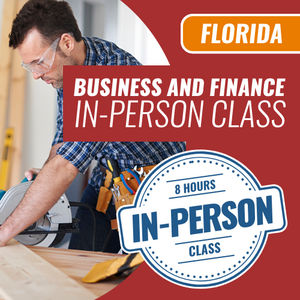 Florida State Business and Finance In-Person Cram Class for Construction Contractors [Instructor: Jack Sheffield]
Gain the Skills you Need to Pass your Florida Business and Finance Examination!
Now offering Business and Finance 8-Hour In-Person Saturday Class in the Orlando Area
1ExamPrep takes pride in our students and in their success. We have helped thousands of students successfully pass the Florida State Contractor Licensing Exams and we are seriously committed to helping you! Our experienced instructors will help you gain the skills and confidence you need to pass the Business and Finance exam! 
Business and Finance Class Overview: 
The class will be a one day 8-hour course designed to prepare exam candidates for the business and finance portion of the Florida Contractor's Exam. The class will be a small group of up to 25 students and provide you with the opportunity to ask questions and get answers from our highly experienced instructor, 
Jack Sheffield
.  Ideal candidates would have had some exposure to the business and finance reference materials. (Previous exposure to reference materials not mandatory). 
Class syllabus includes: 
Exam registration and testing center guidelines

Test taking tips and techniques

Intensive review of the Business and Finance references

: Florida Contractor's Manual (including Chapter 455), Builder's Guide to Accounting, and AIA A201, A401, and A701.
Business and Finance practice exams including math calculations

Detailed instructions on how to find answers within the books
SELECT THE DATE AND TIME IN THE DROP DOWN BOX ABOVE TO RESERVE YOUR SEAT. SPACE IS LIMITED. ONLY 25 SEATS AVAILABLE!
For questions, please call: 954-210-3030
*Class is nonrefundable* 
Need Books?
Please contact 954-210-3030 for more information. 
Please follow the Florida Department of Health Covid-19 Guidance Recommendations for in-person classes.
---