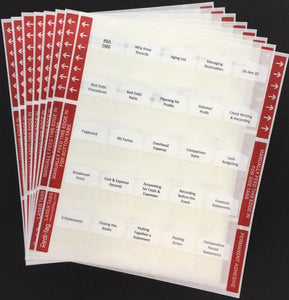 GITS Aluminum Contractor Exam; Pre-Printed Tabs (County - Florida)
This license will no longer be issued by any county in the State of Florida after June 30, 2023 per Florida House Bill HB735. 
Includes tabs for the following books:
1. Design and Control of Concrete Mixtures, Kosmatka and Panarese, 17th Ed. 
2. Finish Carpentry: A Complete Interior & Exterior Guide, 1995, Sterling
3. Formwork for Concrete, 8th Ed. 
4. All About Roofing and Siding Basics, Ortho
5. Code of Federal Regulations – Title 29, Part 1926 (OSHA)
6. Excavation and Grading Handbook, 2007, 3rd Ed., Capachi
7. Guide to Aluminum Construction in High-Wind Areas, 2010, AAF
NOTE: TABS ONLY. NO HIGHLIGHTS FOR THE BOOKS ARE INCLUDED
---