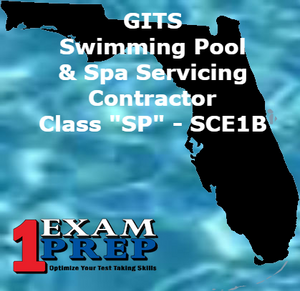 GITS Swimming Pool/Spa Servicing Contractor - Class "SP" - SCE1B (County - Florida)
Get one step closer to becoming a licensed Florida County Swimming Pool/Spa Servicing Class "SP" Contractor with a prep course designed by 1ExamPrep to help you conquer the required County trade examination. Our online exam prep course includes:
Highlighting and tabbing location for each required book, so you can quickly and easily reference your materials during the exam
Hundreds of practice questions help you become familiar with each reference book
Testing techniques that are an indispensable part of passing these open-book exams

Instructor available via phone and email
Access to the course for 1 year
Covered topics include Class "SP" specialty building contractor includes, but is not limited to, the servicing and repair, including the treatment of water, of any swimming pool, hot tub, or spa, whether public, private or otherwise, regardless of use.
Android and iOS Compatible - Complete the course on your phone, anytime or anywhere
The scope of work includes the replacement or repair of existing equipment, any cleaning or equipment sanitizing which requires at least a partial disassembling, and the installation of new pool/spa equipment, interior refinishing, the reinstallation or addition of pool heaters, the repair or replacement of all perimeter piping and filter piping, the repair of equipment rooms or housing for pool/spa equipment, and the substantial or 
complete
 draining of a swimming pool, hot tub, or spa, for the purpose of any repair or renovation. 
---