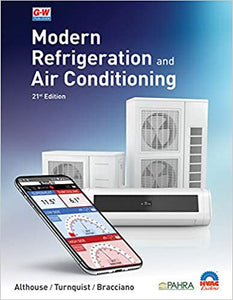 Modern Refrigeration and Air Conditioning, 21st Edition
Modern Refrigeration and Air Conditioning
 is the HVACR standard for a new generation of learner. It correlates to HVAC Excellence and PAHRA accreditation requirements to ensure complete coverage that prepares students for career success. This edition has an improved instructional design, improved assessments, enhanced content on fundamentals, such as electrical theory and troubleshooting, and new digital assets that help students master knowledge, hands-on applications, and diagnostic skills. The revision also helps prepare students for employment and careers with new lab activities and features. Prepare your students for careers with new learning materials based upon the original HVACR industry standard.
Follow-the-Heat™

 

Animations provide 63 short animations that introduce foundational concepts using simple, easily understood graphics and narrations.
Troubleshooting Activities create an interactive experience designed to develop and promote troubleshooting techniques and logical diagnostic skills.
New chapter on Electrical Troubleshooting, and expanded electrical coverage in the text and lab manual provide excellent coverage of essential information.
Soft Skills for HVACR features emphasize the importance of workplace skills.
Service Call Troubleshooting features present on-the-job service call situations.
Full-color Lab Manual includes 35 new lab activities – including activities focusing on basic electrical skills and sheet metal construction.
What's New:
Enhanced coverage of fundamentals and advanced content, including electrical theory basics, troubleshooting, minisplits, digital controls, building automation systems, and energy auditing and management, prepare students for the workplace.
Strengthened instructional design with new and improved assessments and new digital tools (such as Troubleshooting Activities and animations) engage students and effectively support the mastery of theory, skill development, and service and troubleshooting ability.
Enhanced instructor resources include a new image library, new robust lesson plans; lab equipment lists; new and improved assessments; and learning management tools from EduHub.
---