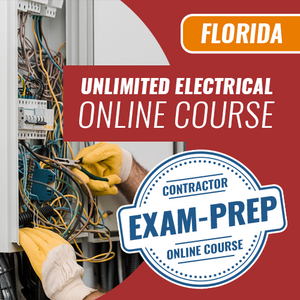 Florida Unlimited Electrical Contractor Exam - Online Exam Prep Course
Get one step closer to becoming a Florida Electrical contractor with a prep course designed by 1ExamPrep to help you conquer the required Florida Electrical Contractor examination.
Use online course structure to tailor your prep to your individual learning style. You'll have a full year of access to the online course.
Highlighting and tabbing location for each required

 

book

, so you can quickly and easily reference your materials during the exam
Practice questions

 

printable PDF format and timed simulated computer-based format

Testing taking techniques that are an indispensable part of

 

these

 

open

-

book

 

exams

1 year of online access

Scope - Applies to All of the Below:
Lighting Maintenance Specialty Electrical Contractor. The scope of certification of a lighting maintenance specialty contractor is limited to the installation, repair, alteration, or replacement of lighting fixtures in or on buildings, signs, billboards, roadways, streets, parking lots and other similar structures. However, the scope of the certification does not include the provision of, or work beyond, the last electrical supplying source, outlet, or disconnecting means.
Sign Specialty Electrical Contractor. The scope of certification includes the structural fabrication including concrete foundation, erection, installation, alteration, repair, service and wiring of electrical signs and outline lighting. The scope of certification shall not include the provision of, or any electrical work beyond, the last disconnect mean or terminal points. However, a contractor certified under this section may provide the electrical entrance requirements for metering and main disconnect of remote billboards or signs which are independent of any structure or building and which require no more than twenty-five (25) kilowatts at two hundred fifty (250) volts maximum.
Residential Electrical Contractor. The scope of certification includes installation, repair, alteration, addition to, replacement of or design of electrical wiring, fixtures, appliances, apparatus, raceways, conduit, or any part thereof, in a 1, 2, 3, or 4 family residence not exceeding 2 stories in height, and accessory use structures in connection with the residence. The electrical service installed or worked upon is limited to single phase, 400 ampere single service.
Limited Energy Systems Specialty. The scope of certification of a limited energy systems specialty contractor includes the installation, repair, fabrication, erection, alteration, addition to, or design of electrical wiring, fixtures, appliances, thermostats, apparatus, raceways, conduit, and fiber optics (transmission of light over stranded glass) or any part thereof not to exceed 98 volts, (RMS). The scope of work of this license does not include installation, repair, fabrication, erection, alteration, addition to, or design of electrical wiring, fixtures, appliances, thermostats, apparatus, raceways, conduit, that are part of an alarm system.

The scope of certification is limited to electrical circuits and equipment as set forth in Section 489.505(7), F.S.
The scope of certification shall not include work performed by public utilities exempt under the terms of Section 489.503(4), F.S., or exempt due to the regulatory jurisdiction of the Florida Public Service Commission.
The scope of work of this license may also be performed by the following certified and registered license categories: Unlimited Electrical Contractor, Alarm System Contractor I, Alarm System Contractor II, and Residential Electrical Contractor.

Utility Line Electrical Contractor. The scope of certification of a utility line electrical contractor means a utility contractor whose business includes all types of transmission electrical circuits, distribution electrical circuits, and substation construction done for investor-owned electrical utilities, city municipal electrical utilities, and cooperatives under the rural electric authority between the point of origin and point of delivery
---